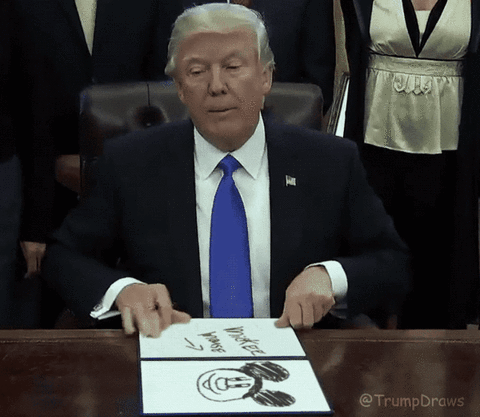 This morning the DC Circuit will hear Donald Trump's appeal of a DC District judge's refusal to stop the National Archives from releasing records to the January 6 Select Committee. I will liveblog it for you, so, fingers crossed that Team Trump delivers its usual high-caliber hijinks.
Three weeks ago, Judge Tanya Chutkan dick kicked Trump's request to enjoin the Archives from releasing his records. Apparently the court failed to see the logic behind his lawyers' argument that the former president's claim of executive privilege counts more than the sitting president's waiver. Then she dick kicked him again when he demanded that she stay her own order.
But the appeals court hopped in and did Trump a solid and put the order on hold. Only it was a very tiny solid, since they set a blistering schedule, forcing the lawyers to submit their briefs in rapid fashion and argue the appeal TODAY.
---
Trump is represented by Kraken alum Jesse Binnall and RNC dude Justin Clark. Clark argued the last hearing, and he was marginally less off-the-wall than Binnall in his briefs. Here's some background on the November 4 hearing. TLDR, the Trumpers just keep arguing that the proper legal standard is the four-part balancing test for congressional subpoenas from the Trump v. Mazars case, despite the fact that the issue there was Trump's personal records in the hands of his accountants. This case involves presidential records, which are the property of the federal government, in custody of the federal government, and presumptively destined to become public within 12 years as dictated in the Presidential Records Act.
And, hey, wouldn't ya know it, that's what the judges want to discuss. Here's the most recent order from November 23:
It is ORDERED, on the court's own motion, that the parties be prepared to address the following questions at oral argument: Does the provision in the Presidential Records Act providing that the Archivist's "determination whether access to a Presidential record . . . shall be restricted . . . shall not be subject to judicial review, except as provided in subsection (e) of this section," 44 U.S.C. § 2204(b)(3) (citing 44 U.S.C. § 2204(e)), implicate this court's or the district court's jurisdiction in this case? See, e.g., National Coalition to Save Our Mall v. Norton, 269 F.3d 1092, 1094-95 (D.C. Cir. 2001). If so, what effect, if any, do §§ 2204(b)(3) and 2204(e) have on the subject matter jurisdiction of the district court to adjudicate any of the requests listed in the Complaint's Claim for Relief?
In plain English, they want to know if the Presidential Records Act deprives the court of jurisdiction to hear this suit at all, and the case they're citing says that it's legal for Congress to insulate laws from judicial review.
Here's the relevant statutory language:
During the period of restricted access specified pursuant to subsection (b)(1), the determination whether access to a Presidential record or reasonably segregable portion thereof shall be restricted shall be made by the Archivist, in his discretion, after consultation with the former President, and, during such period, such determinations shall not be subject to judicial review, except as provided in subsection (e) of this section. [...]

The United States District Court for the District of Columbia shall have jurisdiction over any action initiated by the former President asserting that a determination made by the Archivist violates the former President's rights or privileges.
Yeah, yeah, it's boring. But if the judges can force Trump's lawyers to deviate from their wackass howling, this is what they're going to make them talk about.
And one more thing: Trump has drawn an absolutely terrible panel for this hearing, with three Obama/Biden judges, two of whom already ruled against his sweeping claims of executive privilege. Before Biden elevated her to the Circuit Court, Judge Ketanji Brown Jackson ruled that Don McGahn had to testify to the House from her perch at the District Court level. Judge Patricia Millett was on the original Circuit panel which ordered Trump to turn over his tax returns in the Mazars case. And Judge Robert Wilkins was appointed by Obama. So, make of that what you will.
Okay, enough foreplay. Let's get it on! Listen along here.
9:33 Wooohooo, Jesse Binnall up first on jurisdictional issues. Starting out with the BIG CRAZY.
9:38 Binnall was yammering for like 30 seconds about the history of the Presidential Records Act before Judge Wilkins and then Judge Jackson jumped in to ask about subject matter jurisdiction. I *think* Binnall's argument is that the PRA language only blocks courts from adjudicating challenges by third parties (i.e. by FOIA) to the National Archivist's decision whether or not to release a record. Binnall says it doesn't limit challenge by a former president.

9:42 Okay, Binnall isn't super crazy this morning. YET.
But he's getting his ass kicked all over the place because he wants to read jurisdiction into a statute that isn't really well drafted.
9:47 Judges Wilkins and Jackson have managed to force Binnall to narrow his argument from all the whining about the Select Committee's request being overbroad and politically motivated to the meat of the issue, which is whether the former president can assert executive privilege and whether the statute allows him to seek redress from the Court.

Follow Liz Dye on Twitter!
Smash that donate button to keep your Wonkette ad-free and feisty. And if you're ordering from Amazon, use this link, because reasons.